DEVELOPMENT

Dr. Najwa Adra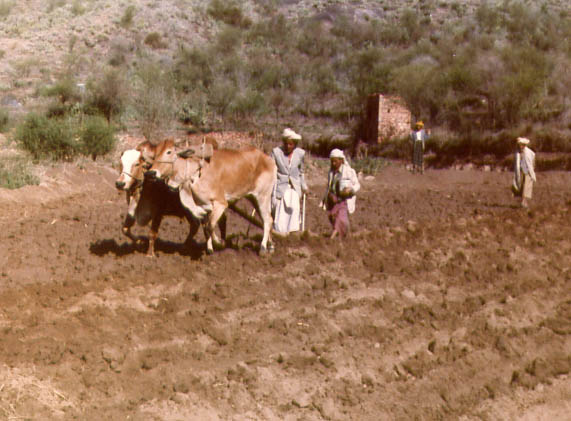 Plowing in Yemen's Northern Highlands 1984. Photo: Najwa Adra

Dr. Najwa Adra is a cultural anthropologist specializing in Yemen and the Middle East. Her expertise includes participatory approaches to developoment and participatory monitoring and evaluation. She has long-term experience with focus group discussions, semi-structured interviews, stakeholder meetings and workshops, trend analysis, and participant-observation. Between 1999 and 2004 she initiated and piloted, "Literacy through Poetry/Heritage" through which adult women learned reading and writing skills using their own oral poetry and proverbs as text. Dr. Adra has worked on agricultural extension, social exclusion, and informal legal systems. Her work on rural women includes a study of the impacts of male migration on their roles in food production and on reproductive health. She also has a long-standing interest in intangible heritage, especially in the dances of the Arabian Peninsula. For Dr. Adra's development resume, click here.
Selected development reports and articles related to development::
2013 (Revision of 1983 document)
The Impact of Emigration on Women's Roles in Agriculture in the Yemen Arab Republic. Report prepared for FAO, Rome.

2007
Articles for The Encyclopedia of Women and Islamic Cultures. Suad Joseph, ed. Leiden: Brill:
Economics: Agricultural Labor. Yemen. Volume IV:136-137.
Economics: Land Reform. Yemen. Volume IV:215.

2006
Social Exclusion Analysis – Yemen. Report based on desk study for DFID Yemen Country Assistant Plans (CAP) and World Bank Country Social Analysis (CSA).

2005
Brainstorming Notes on Mainstreaming Intangible Heritage into Ongoing and New Development Programs in Yemen. Unpublished report for UNDP, Sanaa.

2004
The Relevance of Intangible Heritage to Development. Anthropology News, 45(3):24.

1999
What's Art Got To Do With It? Anthropology Newsletter, May:15. (Commentary on the theme: What is Relevant About Anthropology?)

1986
Situation Analysis - Women. UNICEF, Sanaa, Yemen Arab Republic (with Bilqis al-Dabbi). Includes, Bibliography of Women and Children in YAR, and an annex, The Situation of Children in YAR.

1983
Local Perceptions of Breastfeeding, Fertility and Infant Care in Al-Ahjur, Yemen Arab Republic. Report prepared for the Population Council, Cairo, Egypt.


For further information contact:
Dr. Najwa Adra
22 High Pine, Glen Cove, NY 11542, USA
Tel: 1-516-676-9157
Email: najwa.adra@gmail.com